Educational Policy
Acquiring an international way of thinking
At SOPHIA, we strive to provide a positive and stimulating environment where children are encouraged to develop their creativity and curiosity. Children are given ample opportunities to explore, inquire, learn and play in a positive and nurturing environment.
The dedicated international teaching staff caters to the children's diverse abilities, interests and learning styles. We aim to provide a curriculum that fosters each child's unique outlook and provide learning experiences that will prove to be valuable as they grow up to be international individuals.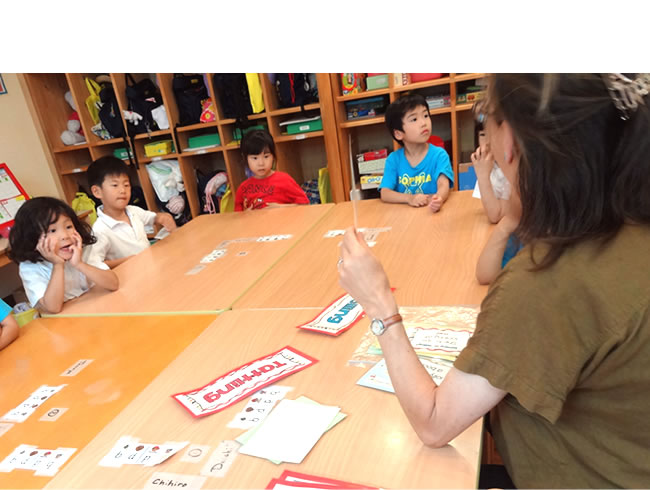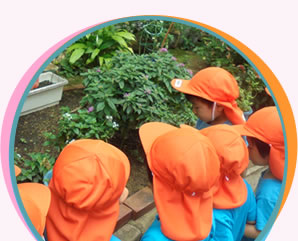 Sensibility-Rich
Children have an innate sense of curiosity towards the beauty and wonders that surround them. At SOPHIA, the children's instinct and inquisitiveness are nurtured and encouraged. They are able to immerse themselves in many seasonal events and activities thus stimulating their awareness of these wonders.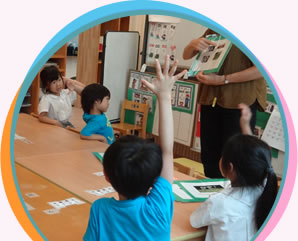 Social Development Skills
Each child grows at their own pace and with their own challenges. Each developmental stage in childhood is important. At SOPHIA, the children are given age appropriate tasks and responsibilities. They are also encouraged to cooperate, to respect each other, to discuss and reflect on their choices. As they grow up, the children acquire more social awareness and understanding. At SOPHIA, we encourage and help children to grow as future members of society. We assist them in their development into helpful, kind and thoughtful individuals who will one day be part of a large community within a global context.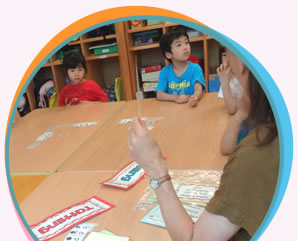 Language Skills
Our approach is based on three principal building blocks. The children play, learn and interact in a completely English environment. The immersion experience allows children to learn basic communicative and comprehension skills in a natural and progressive way. We also use a thematic approach which allows the children to expand their existing vocabulary and facilitate communication.
We also aim to provide the children with tools and a strong foundation in all English skills. As they progress, we introduce a synthetic approach to phonics to allow children to develop a strong base at a crucial developmental stage in their lives.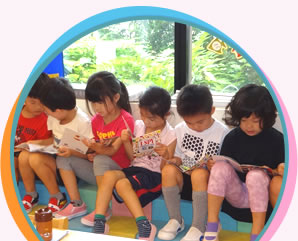 Cultivation of "The 5 senses" and intellectual curiosity
Children are filled with a natural desire to explore and discover. In order to foster this enthusiasm, the students are provided with many opportunities to engage in creative play and crafts. They are also encouraged to actively experience and explore their environment in order to stimulate their senses and inquisitiveness.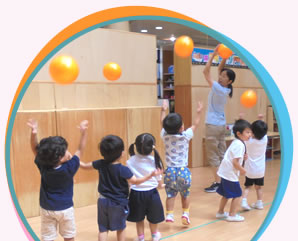 Physical Education &
Motor Skill Development
Every week a trained professional instructor teaches a Physical Education class using mats, bars, trampoline, balls and so on. Older children also take swimming lessons twice a month.
Physical activity is an important component of our early childhood curriculum. The benefits of developing motor skills, balance, coordination and strength will help them improve confidence, And assist their cognitive, social and emotional development.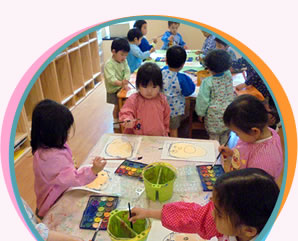 And…
The teachers at SOPHIA are directly involved in all aspects of your child's kindergarten life. They not only teach English but partake in all other activities pertaining to child care, like changing diapers, toilet training, eating, playing, etc.
The teachers' care and constant presence provide your child with the familiarity and trust they need to feel reassurance and comfort.